As anticipated, the nazis in the New York State Assembly passed the microstamping bill.  This bill requires all semiauto pistols to have a feature straight out of science fiction that purportedly stamps a microscopic copy of the gun's serial number on every shell casing it fires. The bill not only requires every semiauto pistol manufactured on or after January 1, 2013 to stamp its serial number, but it requires them to stamp the serial number in
two different places
.  This is impossible, because the only part of a firearm that strikes the shell casing hard enough to imprint a serial number is the firing pin.
Make no mistake.  This is not firearm regulation.  It is an outright ban on semiauto pistols.  Below is a sample of a microstamped serial number directly from a paper published in the Winter 2006 edition of the AFTE Journal by George G. Krivosta of the Suffolk County Crime Lab.  Can you read that serial number?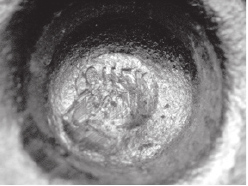 Source:
NanoTag™ Markings From Another Perspective
Full text, summary, status, and votes on this bill.
The next step is to contact your State Senators and advise them to remember that this is the USA, not 1930's Germany.  Please remind them that this bill is an aoutright semiauto pistol ban.  Insist that they vote against this nazi bill.
There is of course something else you can do to piss off these Assembly nazis:
Buy guns!  Buy lots of guns!  Buy as many guns as you can afford!